How to order healthy meals online via the Able Foods online store
Did you know that using our online store is the quickest and easiest way to order your meals? With just a few clicks (or taps on your phone!), your next delivery of delicious, healthy meals will be on its way to you in no time!
Below, we've put together some simple instructions for ordering using a laptop. Don't have a computer? No worries! You can access our store and order easily using a tablet or smartphone too.
How to order your healthy meals online
Bookmark this URL in your browser so you can revisit the store quickly each time!
2. Enter your username and password.
If you don't share your computer with anyone, click "Remember me" so you can save your details and login even faster next time. Then, click the "Log in" button.
3. Browse the store and add items to your cart
Scroll down the page, or use the left hand side menu bar to jump to certain Product Categories. You can also click the "Sort by" button in the top right corner to sort by "Newest" and "most popular" meals.
Choose the quantity of each meal before clicking the "Add to cart" button.
4. Filter by ingredients and cuisine style.
Prefer meals without wheat, dairy, or chilli, or want to see what Asian or pub-style dishes we have at the moment? Use the "Filters" button to easily filter by certain ingredients and cuisines.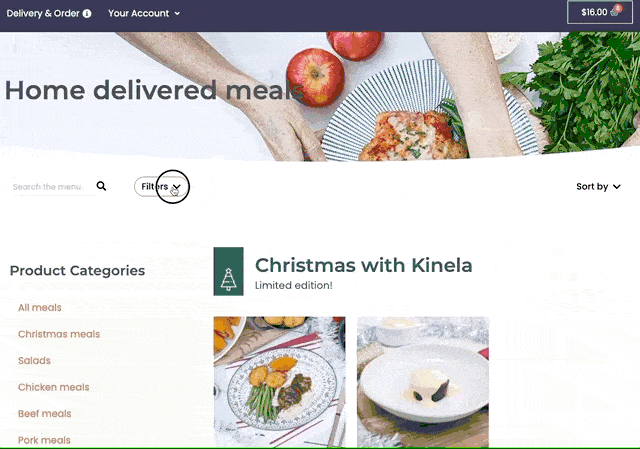 5. Click on the "Cart" icon to complete your order.
Once you're done adding items, click the cart icon in the top right hand corner to review your cart. If you're ready to order, simply click the red "Place order" button and you're all done! Don't worry, you won't be charged immediately — our client support team will take payment for your meals on your agreed payment date.
Bonus step! See all your previous orders.
Loved what you ordered last time and want to order the exact same? Click on "My account", then "Previous orders". You'll be able to reorder quickly and easily any time.
Need a hand placing your first order, or want to get set up with a Able Foods online account? Our friendly team is more than happy to get you started, and give you a quick personal run-through over the phone. You'll be an online store pro in no time! Call us on 1300 123 ABLE (2253).